Watch the demo video to understand how the headcount planning model works:
What Is Headcount Planning Model and how to use it?
Headcount Planning Model is a strategic exercise undertaken to ensure an organization's team members and organizational structure can meet short- and long-term goals within a defined budget. Also referred to as "org charting," the headcount planning process guarantees a company has the right number of people with relevant skills to execute its strategy, without overspending on labour.
Teams of departmental leaders, senior executives and human resources and finance specialists work on headcount planning. The work produced includes hiring plans or targets, reducing employee churn, analysis of worksite occupancy and space utilization data and organization-specific insights and direction.
A multidisciplinary team delivers a more complete outlook and ensures that hiring goals and strategies can be revised quickly should the company's needs change.
For easy navigation and drill down, select Scorecard Model to view the scorecard layout. You can create your own Scorecard model and perform qualitative or subjective evaluation by adding attributes and metrics to a Model. If you are interested in abandoning the judgmental approach and opting for a more formal data-driven statistical approach, refer to the article Scorecard creation.
Scorecards for Headcount planning
Extract insights from your data with features like Advanced Analytics, Complex Simulation and what-if Scenario building, to empower your capacity for informed decision making.
Value Driver Tree
Why should you download Headcount Planning Model in your system?
It's crucial that a business's leadership understands what the company is paying for labour — that's a major line item for most businesses. In addition, tying headcount planning to the financial planning and analysis (FP&A) process means companies can align talent acquisition efforts with business goals.
Headcount planning also ensures an organization's future stability in that it helps leaders implement succession plans, and for those seeking funding, it encapsulates a company's understanding of its current organizational design, labour costs, productivity and human resources expertise.
The main benefit of the headcount planning Model is to support current and future business goals. Most companies experience the following benefits when they achieve success with headcount planning:
The ability to respond quickly on a workforce level to emerging challenges across the business, industry and overall economy.
A more efficient, productive and effective workforce because employees are more likely to possess relevant skills and be good fits for their positions.
A method to control and quantify costs by directly linking talent expenditures with business objectives.
Ongoing monitoring of attrition and ensuring there is a pipeline to fill critical roles; this includes succession planning.
A better understanding of an organization's worker profile so that HR policies can be shaped to maximize talent goals.
Worksheet allows users to view and interact with Models from different perspectives. The Worksheet view is like the spreadsheet view where you can cut, copy, and paste just like the excel sheet. Similarly, you can easily import or export data in the worksheet just as in the spreadsheet that we generally use. The datasets in the worksheet are similar to the spreadsheet. The Concerto modeller makes it easy to pull and push data to create faster presentations as compared to doing it in the spreadsheet in a globally accepted standard.
Using scenarios, companies can predict the possible future scenarios and help to mitigate the risk, so that managers can be more aware of the external environment and their company's status and future directions, therefore, they can match internal resources to the external environment to allocate the resources more effectively and rationally.
Create dynamic scenarios
Use cases
While HR takes the lead, four constituencies should be involved in headcount planning.
HR
HR teams traditionally head up this effort. Companies that have mature human capital management (HCM) practices are more likely to have well-defined talent management processes.
Executives
Executives bring insights into overall goals and budgets and plans around M&A, new product launches and other strategic efforts. While HR teams use their knowledge of the larger organizational structure to create a talent roadmap, business leaders provide the destination.
Departmental leaders
Departmental leaders, such as those from operations, sales or production, bring to the table insights into their individual group budgets, priorities and strategies.
Finance department
The finance department also plays a critical role since they're the ones who create the company-wide budget.
The short answer, the headcount planning process needs to be a collaborative effort led by HR but with plenty of input from business and financial leaders.
Value Driver Trees structure for Headcount planning
5 Steps to Create a Successful Headcount Model
These five steps will help any organization create an effective headcount plan: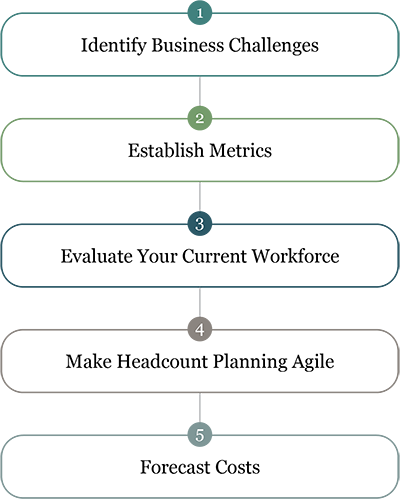 Still, having trouble navigating and installing Mining Model in Concerto Marketplace? Get in touch with our support experts– we're happy to help.